Jenny drives her heavy and powerful Audi and comes across some empty cans on the parking lot. She aims them each with her broad wheels and runs over them until they're all completely flat. She is very amused by the crunching noise under her wheels. What will be crushed next under Jenny's tires? Maybe you?
Get the Clip at the Car Crush Club YooGirls Store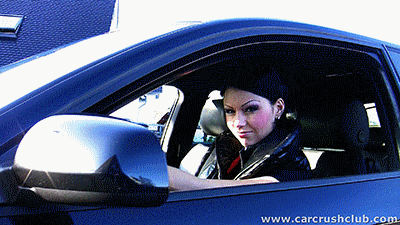 January 29, 2009 · Filed Under
Femdom
,
Foot Worship
·
Comments Off

on Lick and eat from Maéva's shoes
Mistress Maéva forces her slave to lick her beautiful high heeled shoes. She later crushes a chocolate bar under her heels and her slave has to eat it from her shoes and from the floor.
Get the Clip at the Foot Fetish Attitude YooGirls Store
January 25, 2009 · Filed Under
Femdom
·
Comments Off

on Jenny & her slave under the couch
Jenny is resting on a couch and chatting with a friend on the phone. Of course she thought about a suitable job for her slave while she's on the phone. She simply forces him down on the floor, puts the couch ON HIM and sits down – so comfortable for her – so uncomfortable for him.
Get the Clip at the Couching Club YooGirls Store
Lady Deluxe and Lady One are sitting in a train with another passenger. They want him to give them his mobile phone but he refuses to give it to them. So they start to kick him with their Buffalo boots, trample him, bust his balls until they finally get the mobile phone. But they're so angry about his resistance they crush it right in front of him. He also has to lick her boot soles clean afterwards.
Get the Clip at the WOFF YooGirls Store